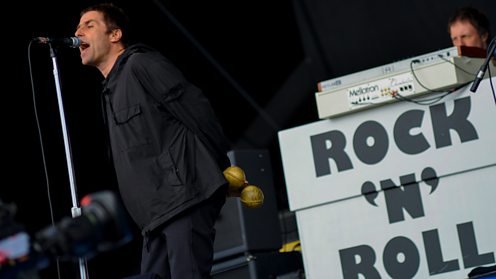 Liam Gallagher at Glastonbury
Liam Gallagher basically 'ripped the shit' out of Glastonbury with his solo performance and it was fan-f***ing-tastic!
Great to hear some new tracks and some Oasis classics. It was a bit strange hearing Liam sing 'Don't Look Back In Anger' for the first time ever as that's really his brother Noel's song.
Highlights for me included 'Slide Away', 'Wall Of Glass', and the crowd sing-along 'Don't Look Back In Anger'.
Full Set
Rock 'n' Roll Star
Morning Glory
Wall of Glass
Greedy Soul
Bold
D'You Know What I Mean?
Slide Away
I Get By
You Better Run
Universal Gleam
Be Here Now
Don't Look Back in Anger
Click the image below to watch the full set on BBC Music as it becomes available.
If it asks you to sign up to watch you can choose to skip it. Enjoy!
If you are outside the UK and you are having troubling watching then you might need to use a VPN to use iPlayer or BBC Music so here are some instructions that might help.
Treat  Music With Respect!
If you are looking for new audio products to enhance your music listening experience then take a look at these products which come highly recommended by us here at Talk About Pop Music.