Steps Are Back!
UPDATE: 27th October
Steps have just released the deluxe edition of this album and is full of many more awesome new tracks!
Oh – did I also mention I will be going to see Steps live in Aberdeen next month!!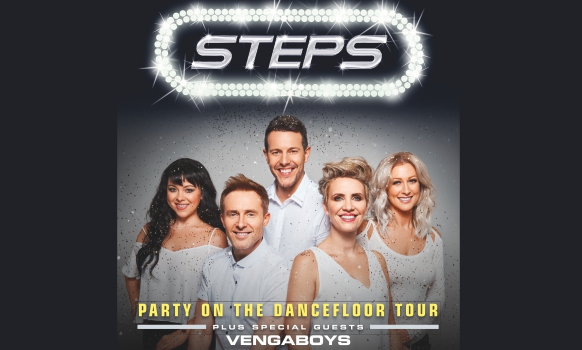 Take a listen, have a dance and then read on to find out what Dan thought after hearing the album for the first time earlier in the year…
Come on, how could you not know who Steps are? They were huge in the late 1990's with many Top 10 singles and albums, and pretty much every child knew their dance routines, or at least part of it (the iconic "Tragedy" dance for example). Steps are back (yet again) to celebrate their 20th anniversary and they are doing it in grand style, as they are also releasing brand new material to go along with it too! How exciting!
20 Years Of Steps
Yes, can you believe it has been 20 years since the debut single from Steps was released, all the way back in 1997. "5,6,7,8" was the song and it set our line dancing hearts alight, and it remained in the Top 20 in Official UK Charts for many weeks. Since then, the band have gone from strength to strength, eventually splitting in 2001.
Find Steps on:
They then embarked on a comeback tour in 2011/2012 before calling it a day again, to mainly focus on their families, but now they are back in 2017 and they have come back with a bang. "Tears On The Dance-floor" marks their first new material since 2012, although I don't really count their 2012 Christmas album as being new material to be fair. 2000 was the year their last full-length studio album was released packed with new material, the incredible 'Buzz' album. Let's take a look at where it all started, all the way back in 1997:
Tears On The Dancefloor
Right then, let's do this. This is the first time listening to 'Tears On The Dancefloor' in full and I have not heard any of the songs prior to this, with the exception of the 1st single taken from the album "Scared Of The Dark". Here is the video for that song:
Already, just by listening to the first few tracks on this album you can tell that they are going for a big pop sound, in fact, there is no real ballad on this album. There is no "When I Said Goodbye" moment, it's all pop through and through. STEPS really know their audience and there are many songs here which will go down well in gay clubs, it's literally dance songs but with sad lyrics, much like the oxymoron title of the album.
Sign up to:
When you're down and sad, the last thing you would want to do is go to a dancefloor so STEPS have brought the dance floor to your ears through their music.
Steps have nailed that uplifting feeling down to a tee here.
Stand out tracks for me are "Story Of A Heart" (which was written by Bjorn and Benny of ABBA) "Firefly", "Neon Blue" and "I Will Love Again" which was originally sung by Lara Fabian in 2000. The album is a fantastic pop album and goes straight up there as my favourite STEPS album, mainly because there are no dull filler tracks here, which Steps unfortunately had on some of their earlier albums.
You really need to check out this album!
Steps: Back In Time
Before you go, let's have a full-on Steps celebration, right here! Let's take a look at all of their singles in video form…
Reviewed by Dan
Dan lives in Reading, England and is an avid music fan – music is his life and he lives and breathes the stuff. Enjoying all types of music, Dan loves going to live concerts and gigs.
He is also a huge Eurovision fan which is just as well as otherwise he wouldn't have been allowed to write for us!
Check out his personal blog at dizzydjc.com